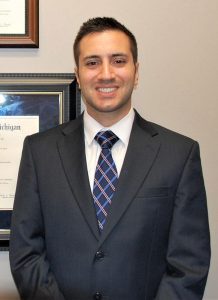 James Shaheen, DDS
From a young age, Dr. Shaheen found dentistry fascinating. When he was 18 years old, he attended his first craniofacial clinic and decided that he wanted to be a dentist. Dr. Shaheen graduated from the University of Michigan with a bachelor's degree in microbiology, and then attended Wayne State School of Business to pursue an MBA. Dr. Shaheen then began chasing his dreams in the dental field by returning to University of Michigan for Dental School. After graduating, he continued to advance his education in oral surgery, endodontics, and the medically compromised.
As he began to practice, Dr. Shaheen quickly realized that while he loved the medical aspects and craftsmanship of dentistry, his favorite part of the job was the relationships he developed with his patients. He has a special gift for helping apprehensive patients feel at ease and overcome their fear of the dentist. Dr. Shaheen recognizes the difference that a comfortable, relaxing dental experience can make, and he strives his best to be a good friend to every patient that walks through his doors.
Inside the practice, you will not only find a friendly and welcoming environment but also a modern office at the forefront of cutting-edge technology and scientific advancement. Dr. Shaheen is passionate about providing the very best care to his patients, and he is constantly taking the time to further his education. He plans to continue both his dental and medical educations, with heavy involvement in multidisciplinary treatment.
Outside of the office, Dr. Shaheen, along with his 5 siblings, is heavily involved in sports and the medical community. He wrestled both in high school and for the University of Michigan, and he enjoys coaching wrestling when time permits.